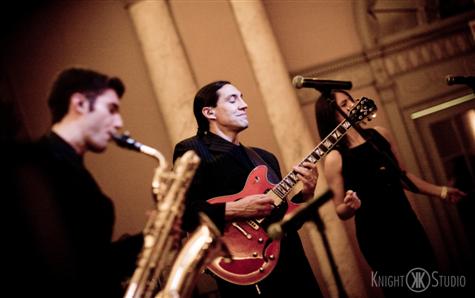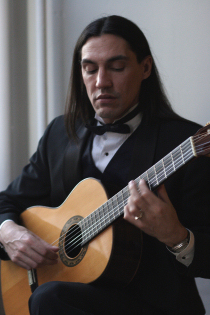 Congratulations on your upcoming wedding. About Face Band offers flat rate pricing for all wedding receptions in WNY. This includes a variety of musical settings. One price includes jazz duo for cocktails, deejay and emcee for introductions, solo classical guitar for dinner and About Face Band for after dinner dancing. Consider us the ultimate master of ceremonies. Itís like hiring four different musical groups for the price of one.

My name is Joseph Mahfoud, I am the band leader and musician for About Face Band. I can send you a set list for the dance band portion of your evening, and a huge list of references. We have been very successful because we take great care of our clients. Please ask our brides how much time and attention we put into preparing their wedding. We understand how important your wedding is. About Face wants to help make it great! We are highly organized and we can greatly reduce the stress of planning a reception. Most importantly, we love weddings. You will not find a better product with more experience, talent, and attention to your reception than About Face. I have been a professional musician my entire life. I have performed at least 1,000 weddings by this point. I earn my living by having an excellent reputation. You may learn more about me at www.JosephMichaelMahfoud.com

Picture a perfect balance of elegance and fun. When the doors open to your reception hall the room is perfectly set up and ready to go. Your guests will walk in while our jazz duo is performing cool standards in a quaint setting by the bar. Next they are awed by the grand introductions. The bride and groom are welcomed for the first time in public to the coordinated sounds of our emcee and deejay. We then escort your guests to the dinning room were they are treated to elegant solo classical guitar. After dinner, our deejay masters the formalities and guides your guests to the floor for first dances. Before anyone can slip away its party time! About Face Band hits the light show and the dance tunes roll from the stage one after another like the great old concert days.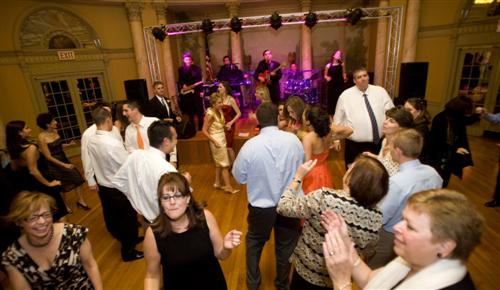 Our flat rate includes a set up crew and sound technician. They will have the room completely ready to go long before your guests arrive. Technicians make sure everything runs perfect for the entire evening. We have an amplifier free stage set up which means we have complete control of our volume. About Face Band will sound like a stereo at low volumes or like a full blown concert if you want us to crank it up. The choice is yours, this is your special day and we will help fulfill your dreams. We provide a concert truss (the real deal not a cheesy pole) and digital light show. Our attention to set up detail really creates a completely unique and beautiful stage.

About Face Band will satisfy the musical interests of every guest because of the massive diversity we offer. Our jazz duo performers are graduates from the renowned Eastman School of Music. I am your classical performer and I hold a degree in classical guitar and am a performance scholarship competition winner. Please note the many referrals from the Buffalo Philharmonic on our reference list. Our full group, About Face Band is a dance party band. We perform popular music from every era. Sinatra, Motown, Disco, Classic Rock, 80ís Pop, Calypso, 90ís Hits, New Millennium. Our common theme is danceable fun music. We play a little bit for everyone.

I will personally meet with you and your fiancĀEto organize the details of your reception well in advance. The further ahead the better. You have my word and the word of countless referrals that we are the best at what we do. You will have our complete attention and we will create a musical reception to best represent you.

These are tough economic times. Our rate is $3,000 for your entire event. That is less that what you will pay for photography. The difference is that you will have our entire 7 person staff tending to your reception for the duration of the event. We are highly skilled professionals who know how to make the perfect balance between elegance and fun. We will create a night that your guests will talk about for a decade. Please ask our previous brides about the best investment they made in their wedding reception.

Why hire a band you may ask? Because this is YOUR wedding and you want everyone to remember what a great time they had at your reception. Why risk having an empty reception hall by 11:00pm when you can hire About Face and keep the party going right to the last minute? About Face Band will keep your guests in the room longer than any deejay or other band could ever do. Donít believe us? Read our testimonials. Our only warning? You will have to keep the other weddings from crashing your rocking reception. Still donít believe us? Email or call our massive list of referrals and talk to our previous brides for yourself.

Please allow About Face Band the honor of being your musical correspondents to make your evening flow with perfection. We are interested in your reception and we want your business. You may call me personally at (716) 873-5499.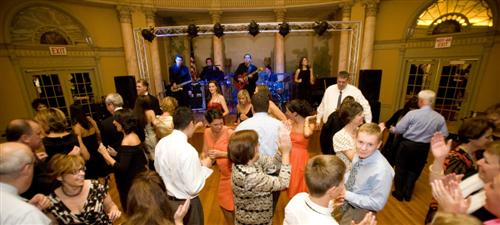 Regards,
Joseph Mahfoud
62 Argonne Dr
Kenmore, NY 14217
www.AboutFaceBand.com
(716) 873-5499